Apple SIM - Buy a data plan via Settings
Thanks to Apple's innovative technology the users are now empowered to choose, buy and switch between mobile data provider directly through their iPads.

Challenge
Due to Apple SIM (also referred to as eSIM) being a new concept users had a hard time understanding how it works.
Not many mobile providers have partnered with Apple, so research and competitor analysis was challenging. There was little documentation on Apple SIM available and along with the hefty Apple NDAs  it was not possible to run user testing and research before the launch.
AIM
To provide a prompt purchase process or claim a free trial for the user to download the eSIM in order to use and explore this new iPad feature. 
Once the eSIM is downloaded the user can surf  the web in 44 countries without roaming charges and buy a plan from any of the 44 countries not just from their home location.  

My Role
I conducted competitor analysis, produced interactive wireframes based on Product and BA requirements; Worked with the Architecture, Network and Development teams to deliver user journeys and final visual designs. 
After launch I ran user testing and created reports to the business on the improvements we need to make, recommendations on the product development and features to follow.
Competitor analysis 
Competitor analysis on the same feature could not be run due to the product being in development. Instead I researched eCommerce purchase paths of successful online brands.  
User Flows
I started by creating user flows to help visualise the experience. This helped me and the Strategic partnerships/Product teams to discuss how it fitted with our users and Apple requirements; helped us make necessary amendments before it was too late in the design & development process, and we used those to present to Apple for approval.
With the help of the flows the development team was able to start working on the back end before we had designed the full experience.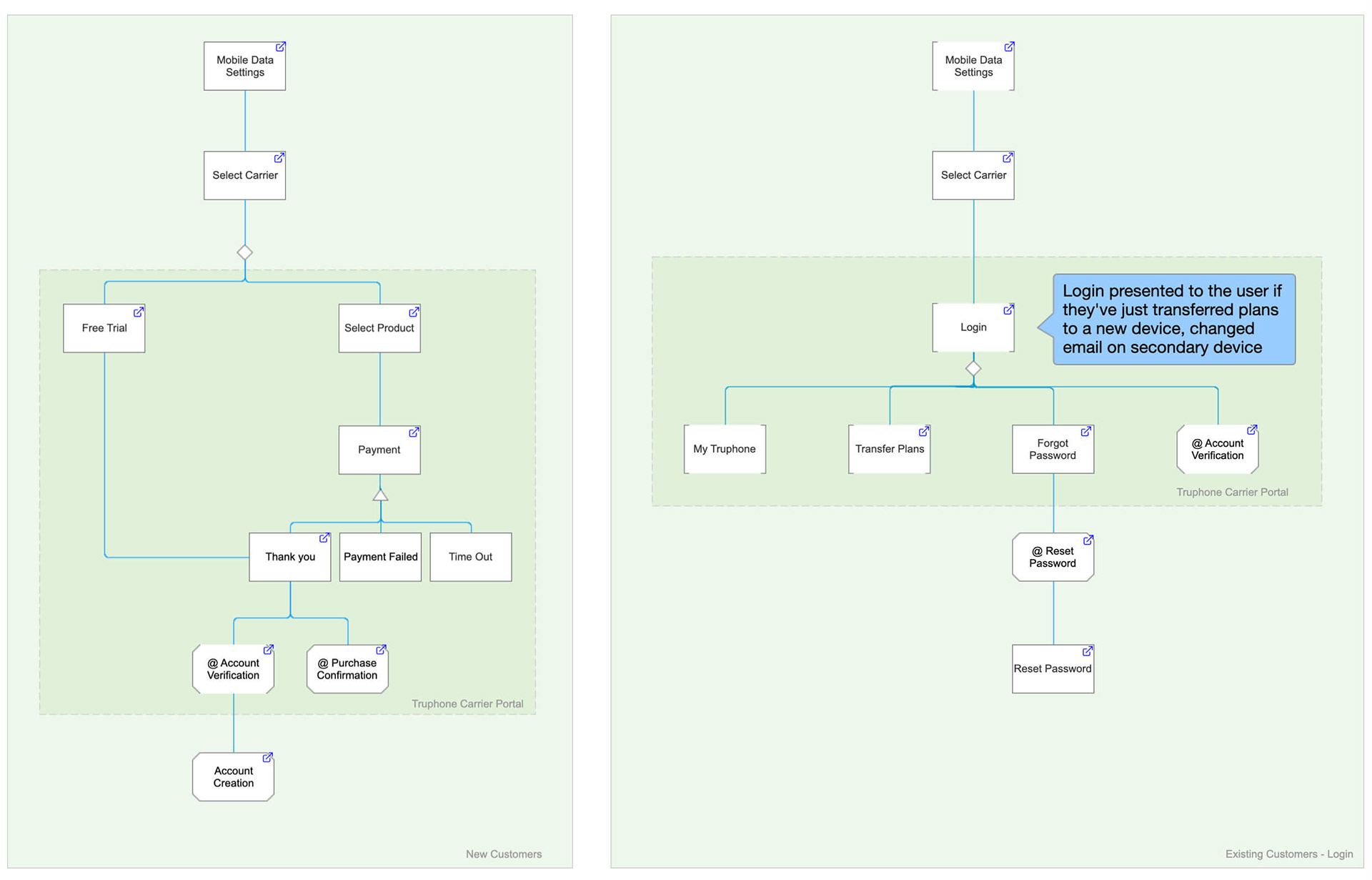 The hardest flow to get right was transfering a data plan between iPads. We had constraints both from Apple and what was technically possible.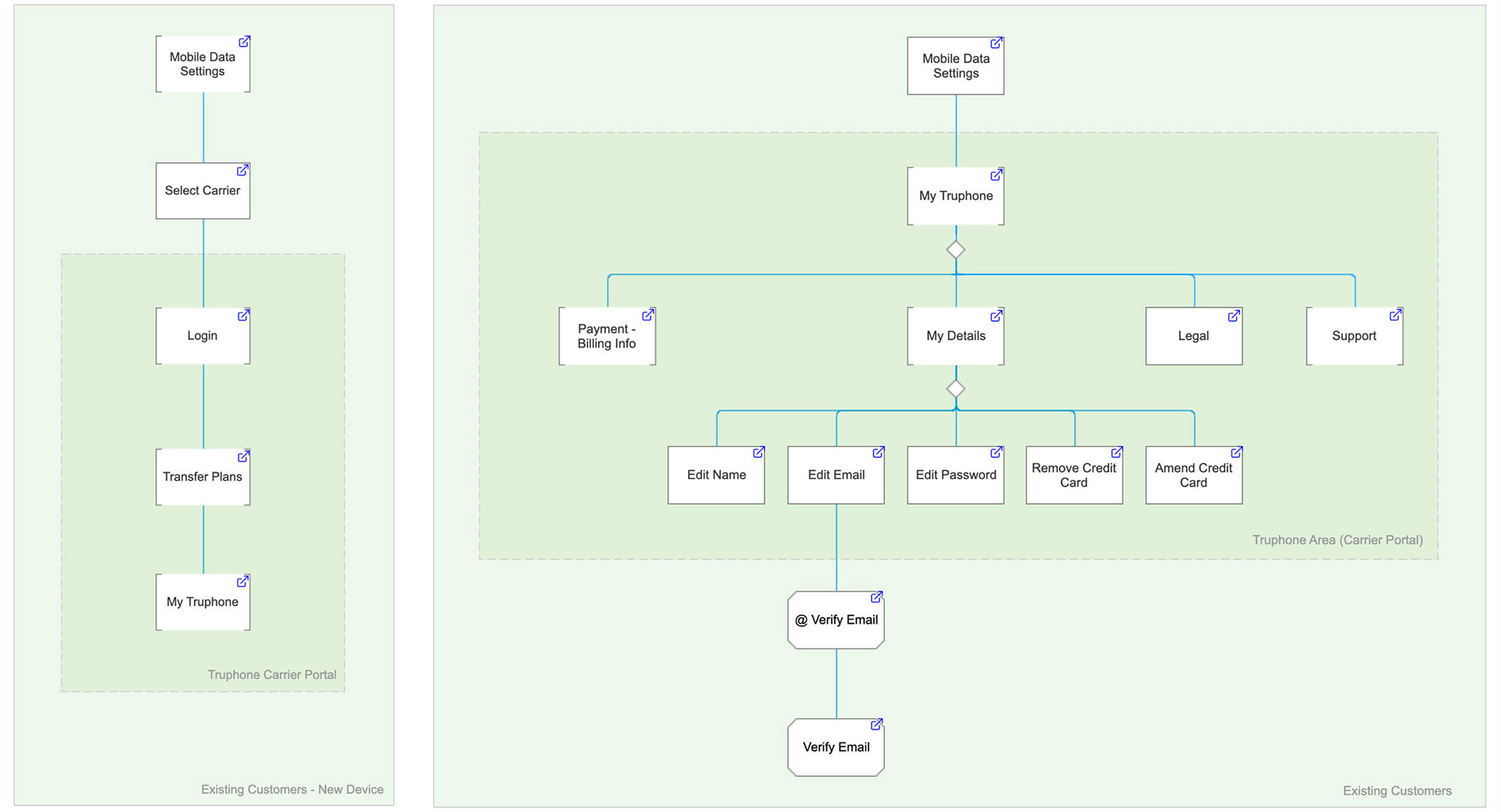 Interactive Wireframes
Interactive wireframes were critical to the project to be able to test within our team if the project was working as intended and to be able to explain to the development team based in Lisbon what was expected for the project. 
Unfortunately, user testing at this stage was not possible to be conducted due to the NDAs signed with Apple.
The purchase path asked only the necessary questions to complete a payment.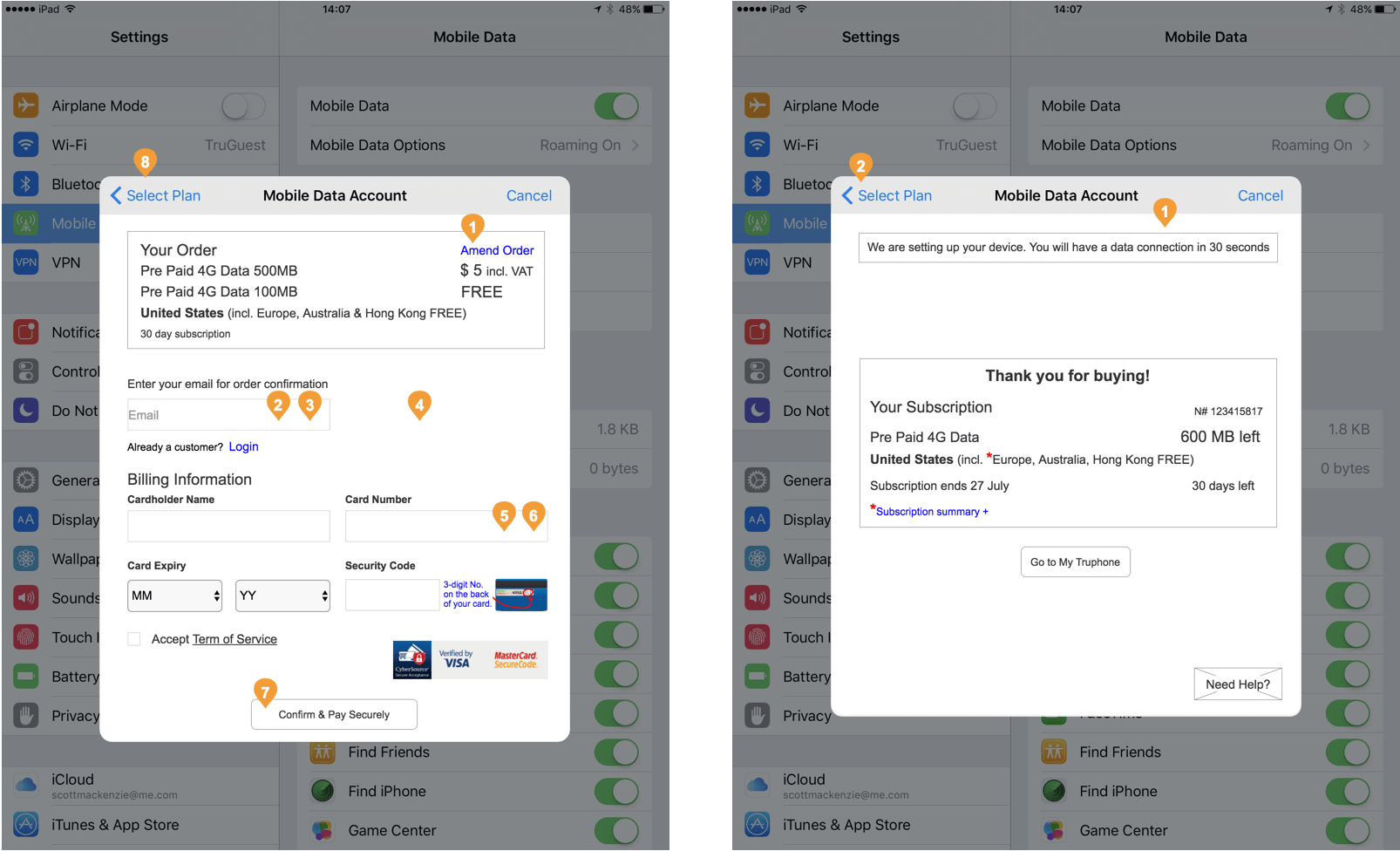 Visual designs
I created the visual designs following the Truphone brand: colours, fonts and shapes.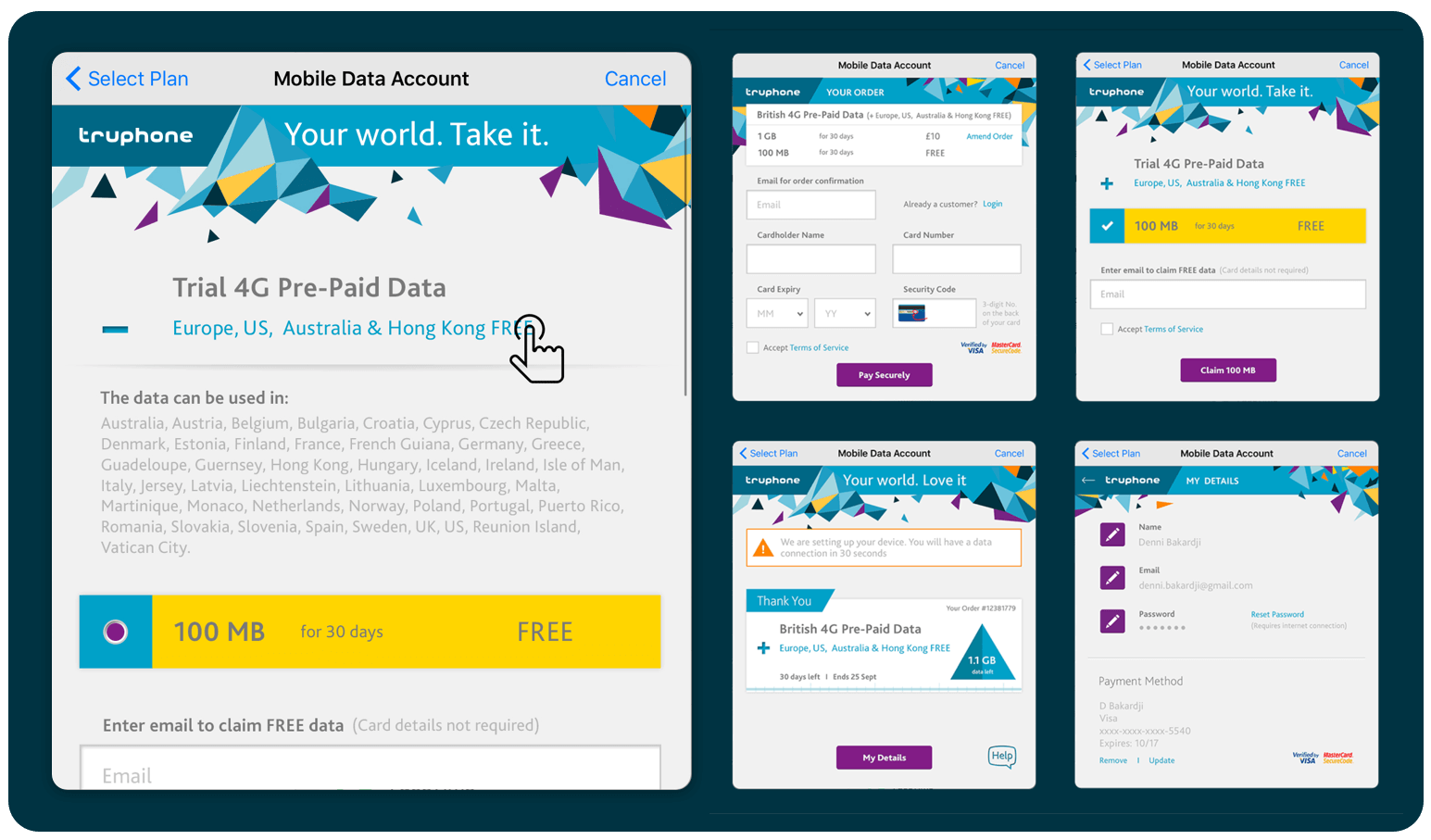 Launch
The minimum viable Truphone Apple SIM was first launched in Spain, after which we launched in 35 countries worldwide. I worked with the Programme Manager on localisation in 22 languages and 17 currencies. 
User testing
After the launch I flew to Spain to conduct the first user test with the live product. At this point Apple were not advertising Apple SIM and users were not familiar with this "setting". The users I tested with didn't know it existed on their devices but when prompted they found it and managed to buy a plan successfully. They found the journeys straightforward, easy to buy a plan and they liked the service.
"…the most global plan I have seen"
"The speed of the data is really good"
Despite users acknowledging the plan is global (to use in 44 countries as at home) 50% found it expensive compared to their home plans. Some users wanted to see Europe only plans hoping they would be cheaper.
"The internet is fast but I find it expensive"
Furthermore, users wanted the plans to rollover instead of having to go in to their settings every time their data ran out.​​​​​​​ This was something we had discussed previously with our team but was excluded from the MVP due to technical difficulties.
"I don't want to buy again manually"
The user didn't understand they can't buy more data until the plan is depleted.
"… I've never seen a company that doesn't want to take my credit card details… You are missing a chance"
One user wanted to buy more before the free trial expired. 100 MB was not enough data for this user and they would like to be prepared for when on the road, as they rely heavily on Google maps. 
"I don't want to be stuck in the middle of the road" 
Improvements
The feedback from user testing led to the design and release of additional features like auto-top up and the ability to buy a plan before all data has been depleted. 
The product team looked into lowering some of the price plans and creating a variety of deals at different price points. I then worked with the product team to design the eCommerce experience around the multiple plan options.
 We also added Apple Pay for even faster checkout.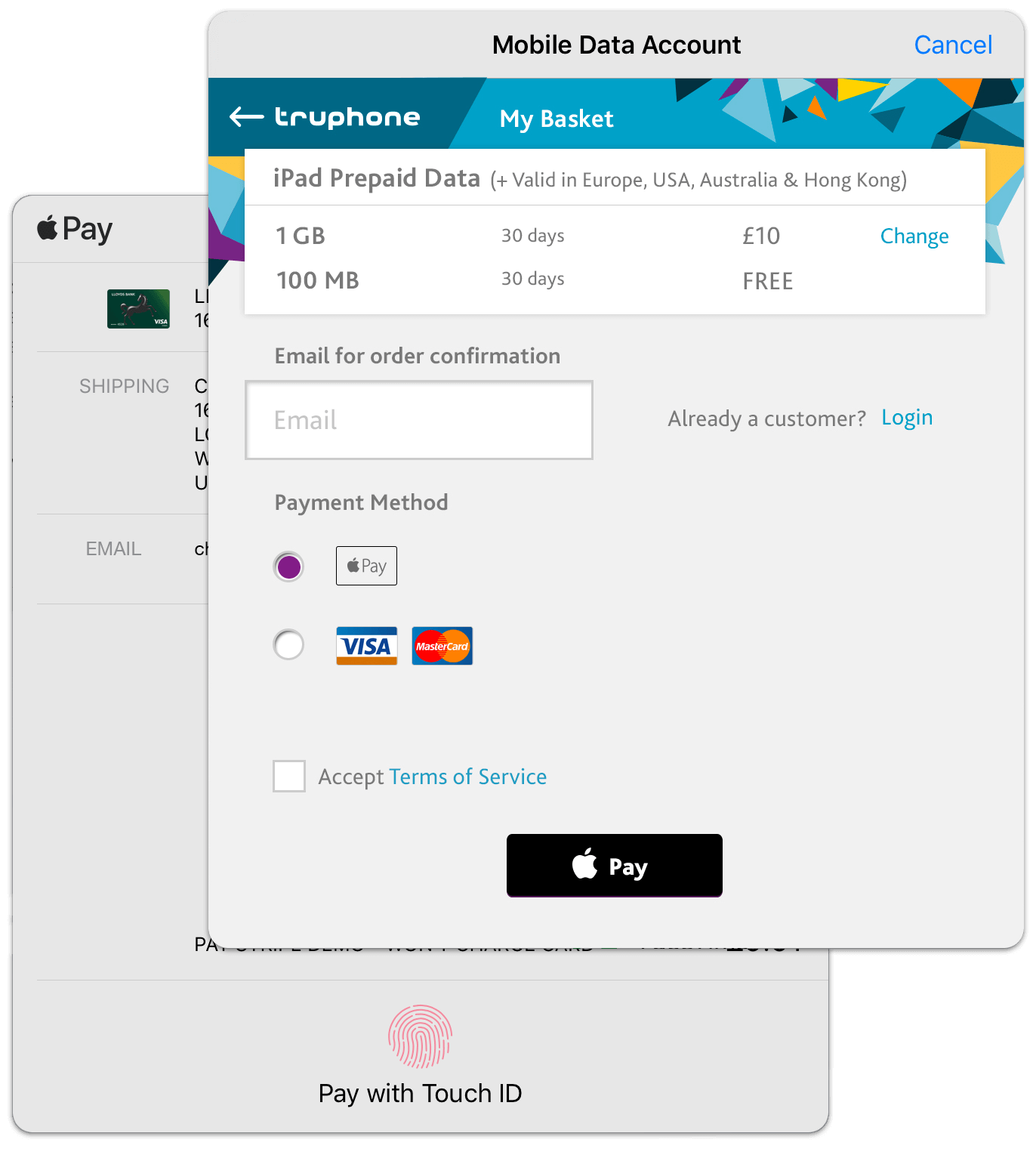 Exposure
We were mentioned at the annual Apple event at Cupertino.